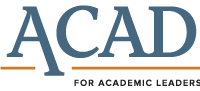 ACAD Deans' Institute
A Virtual Experience
Friday, October 21 11:30am--4:00pm Eastern
ACAD is excited to host our 12th Deans' Institute. Our opening plenary speaker will be L. Song Richardson, President, Colorado College. Dr. Richardson will share her journey to leadership through these turbulent times. We also have over 15 roundtable topics as well as a closing panel discussion Healing and Practical Leaders: Transformational Leadership Post-Pandemic.
PRICING:
August 3 through October 7 2022:
Member: $175 Non-member: $225
Registration closes on October 7th to allow for registrants to pre-select their roundtable topics. Registrants will be notified beginning October 10 to request their selections. Link information for the event will be shared on October 20.
Cancellation policy: A $50 processing fee will be deducted from all cancellations. No refunds will be made on any cancellations, for any reason, received after October 7. Registrations are transferable within an institution.